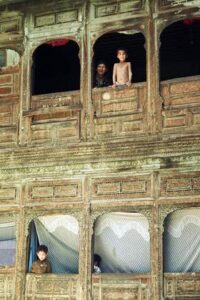 Archnet is probably the most comprehensive, open access resource on Islamic architecture that can be found online.  Sites in our database span the globe. Follow us on social media to see a site in located in each country represented on Archnet, starting today with Rambu House in Kabul, Afghanistan. Originally constructed in the 18th century and restored in 2006, this house is described on Archnet as
one of the finest homes in the Asheqan Arefan quarter of Kabul's old city and one of a few remaining homes that retain timber patai screens (a façade system of sliding timber windows and fixed screens) on all four internal elevations.
Tomorrow's social media will feature the Babameto House in Gjirokastra, Albania, and the day after tomorrow, a mosque in the capital city of Algeria that was constructed in 1612, combining Ottoman and Moorish stylistic influences. Highlighted sites will be among these less frequently consulted on Archnet, so that users may be introducing to interesting or important, but lesser known architecture. They will represent both historic and contemporary architecture.
Archnet contains more than 5,000 sites located in approximately 80 countries from the Americas to Asia. At least one site from each country will be highlighted daily until until we share a site in Harare, Zimbabwe. Follow us on the channel of your choice to see them all.