In last week's article on the growth of Archnet in 2017, we noted the increasing globalization of Archnet's user base, as evidenced by the fact that approximately 87% of Archnet users initiated their visit from outside of the United States. In this article we will look a bit more deeply into those figures. According to Google Analytics, Archnet received visitors from 208 countries and territories (as defined by Google) in 2017, literally an A to Z of countries from Afghanistan to Zimbabwe.
This this article compares statistics on sessions initiated in those 208 areas during the period of August 1 to December 31, 2017 to sessions during the same period in 2014. This article compares the period between August 1 and December 31 over successive years since the Archnet redesign in 2013.  We choose the beginning of August because we began tracking visitors using our current Analytics profile in July 2014. 199 countries or territories saw a significant increase in the number of visitors in the last 5 months of 2017 over the number during the same period in 2014, and the number of sessions coming from 68 countries and territories more than doubled.
By contrast, the decreases were much more modest and often attributable to circumstances such as conflict or disasters. For example, between 2016 and 2017, the number of sessions initiated in Yemen and Puerto Rico declined by 33%, and 31% respectively. The most consistently sustained increases year after year have come from India.
The chart below shows that 10 areas that produced the most sessions from July 1 to December 31 for each year, starting in 2014, color coded to show the shifting positions.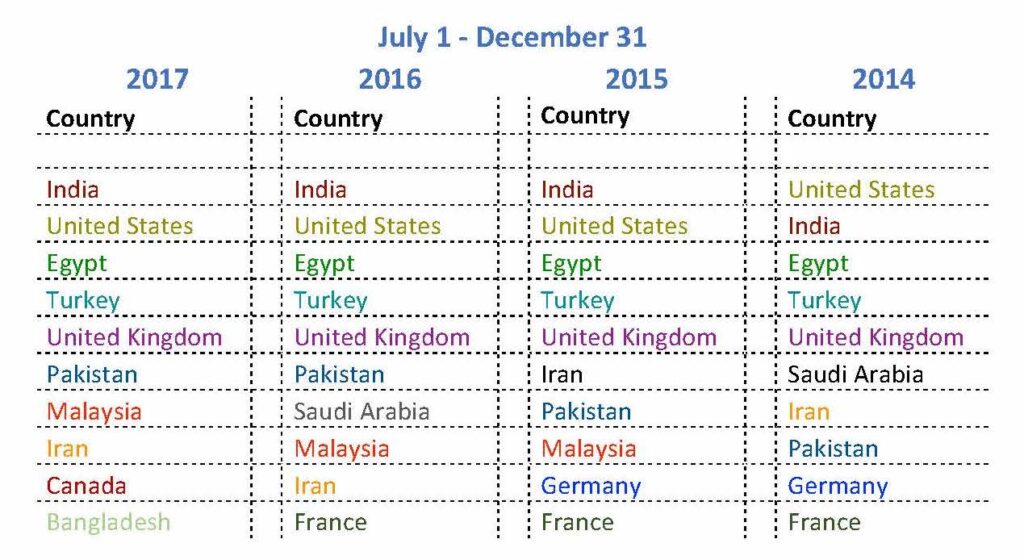 There clearly is a a relationship in number of visitors and the population of a country, as well as the percentage of the population that is Muslim, but the reputation of Archnet as a scholarly resource and our open access policies are also important. Bing's Webmaster Tools identifies 16,697 inbound links to the Archnet home page, coming from prestigious public and academic libraries, educational institutions, museums, non-profits, and other specialized sites all around the world. Visitors have been referred to Archnet from institutions of higher education in places as diverse as New Zealand, India, Brazil, Turkey, France and, Canada.
The chart below lists the countries from which the greatest number of sessions were initiated during the last 5 months of 2017, followed the percentage increase in 2017 over the same period in 2014.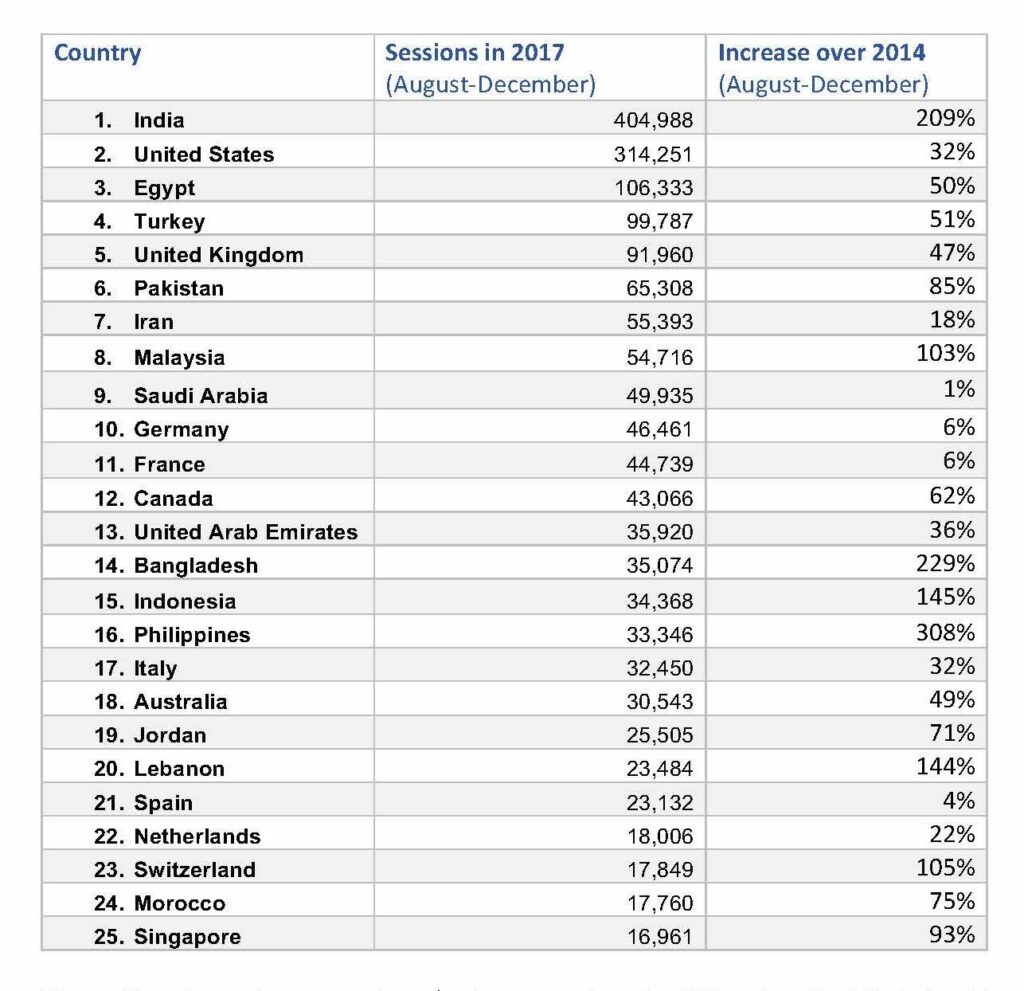 We continue to work on a number of enhancements and additional content that should further increase the appeal of Archnet to an international audience, particularly enabling the search so that is can search in non-Western languages. Archnet already contains text in multiple languages including Arabic, Farsi, and Russian, but users must search for them using Latinate characters.
We also plan to develop a mobile interface to accommodate users who primary means of accessing the internet is with mobile devices. Follow us here or on social media to keep track of updates.
See, also, the most popular resources on Archnet during 2017.