The LayerCake development team at AKDC@MIT (James Yamada, designer/developer, and Sharon C. Smith, PI) is delighted to announce that our soon-to-be-released open access version of the LayerCake has been successful in implementing IIIF (International Image Interoperability Framework) compatibility using the Mirador viewer. While work on the tool continues, this is an important step in ensuring LayerCake's usability for building maps layering narrative, time, and space simultaneously. The 3-axis mapping tool is intended for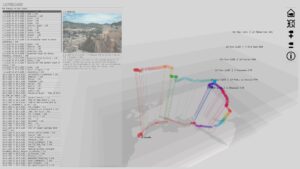 scholars, researchers, and students to tell stories, display collections, and reveal complex temporal and geographic relationships in ways that purely spatial maps cannot.
The proof-of-concept can be seen here, but does not contain the IIIF compatibility.