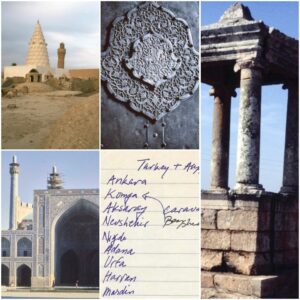 Archnet's Pedagogy Project  now includes items from scholars' archives donated to AKDC@MIT since its opening in 2011. Recognizing the significance of this collection to those teaching and learning about the material and visual culture of Muslim societies, they are being added to a new Teaching Collections section of the project.
Each scholar's collection is unique and may contain slides, prints, field notes, and other materials as outlined in the finding aids for each archive. The materials housed in this collection are free to use for teaching and research purposes. Further, they provide a unique opportunity for students and scholars to examine the historiography of the field as it developed in the late 20th century.
Currently,  selections from the archives of Marilyn Jenkins-Medina and Yasser Tabbaa are on view, with additional material coming soon. In addition to the scholars' archives, new syllabi and publications have recently been added. This collection will continue to evolve as scholars' donations continue.