Event date
March 6, 2017
11am - 1pm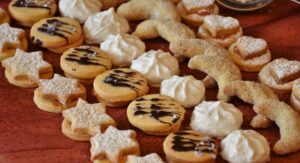 Q: What could possibly be kinder than a homemade cookie?
A: Two homemade cookies!
A member of our staff will be baking tons of great cookies, and we'll be bringing some gluten-free treats, too. Drop by Barker Library between 11am and 1pm and have a snack. You'll be glad you did.
Location:
Barker Library (10-500)
Presented as part of Random Acts of Kindness Week at MIT, March 6-10, 2017.