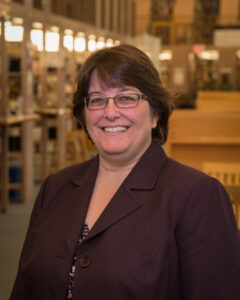 Tracy Gabridge has been appointed deputy director of the MIT Libraries, Director Chris Bourg announced Monday. In this new position, Gabridge will be responsible for directing the implementation of the Libraries' strategic plan and for ensuring the organization is working collaboratively and effectively towards the recommendations laid out in the Future of Libraries Task Force report.
"We have bold ambitions for the future," says Bourg. "Tracy's skills, experience, and knowledge will provide the organization with the focused leadership we need during this critical transition. I am delighted that she has accepted this appointment."
A particular focus of Gabridge's responsibilities moving forward will be advancing the Libraries' space planning priorities. She has served on the MIT Libraries Space Planning Group since it was announced in December 2016. The group, composed of faculty and administrators from across the Institute, worked to develop an overall vision for MIT's library spaces as well as specific programmatic recommendations for renovations to Building 14.
Gabridge, an MIT alumna, has had a long and distinguished career with the MIT Libraries. She first joined the staff in 2000 as the librarian for civil and environmental engineering. She most recently served as associate director for academic and community engagement, overseeing three departments who work directly with the MIT community in a variety of roles including library access; liaison, instruction, and reference services; and data and specialized services. Gabridge begins in her new role September 1, 2017.