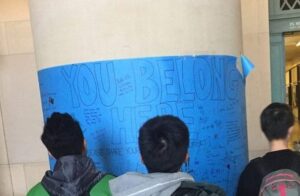 In response to President Donald Trump's January 27 executive order restricting people from seven countries from entering the United States, the MIT Libraries issued the following statement on January 31:
President Trump's discriminatory executive order is antithetical to the core values of the Libraries, of the Institute, and of this country. The MIT Libraries supports and serves a global community that is richer for its diversity and strengthened by its commitment to justice.
 While the MIT Libraries will not restrict Libraries-funded foreign travel, we will not require anyone to travel outside the United States on Libraries business or on Libraries-funded activity until all members of our community are once again free to travel outside the United States.
 As President Reif said, "we do some of our best work when we turn outward to the world." We remain committed to the open exchange of knowledge across borders and cultures and to the values of equality, openness, inclusion, and respect; these are what will lead us to a better world.
The statement on foreign travel is consistent with the Libraries' policy regarding business-related travel to U.S. states that have adopted legislation restricting the rights and safety of LGBTQ people.
The Association of Research Libraries (ARL) and the Association of American University Presses (AAUP) issued their own joint statement Monday, January 30, standing "unequivocally opposed to this immigration ban." MIT Libraries Director Chris Bourg is chair of ARL's Diversity and Inclusion Committee.
In addition, MIT President Rafael Reif wrote a letter to the MIT community regarding the executive order, calling on its members to protect each other and advance our shared values.
"Together, through teaching, research and innovation, MIT's magnificently global, absolutely American community pursues its mission of service to the nation and the world," said Reif in his statement. "The Executive Order on Friday appeared to me a stunning violation of our deepest American values, the values of a nation of immigrants: fairness, equality, openness, generosity, courage."