Event date
October 23, 2017
1 - 2pm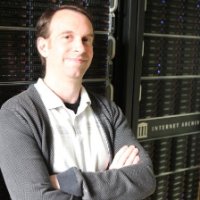 The web is now firmly established as the primary communication and publication platform for sharing and accessing social and cultural materials. This networked world has created both opportunities and pitfalls for libraries and archives in their mission to preserve and provide ongoing access to knowledge. How can the affordances of the web be leveraged to drastically extend the plurality of representation in the archive? What challenges are imposed by the intrinsic ephemerality and mutability of online information? What methodological reorientations are demanded by the scale and dynamism of machine-generated cultural artifacts? This talk will explore the interplay of the web, contemporary historical records, and the programs, technologies, and approaches by which libraries and archives are working to extend their mission to preserve and provide access to the evidence of human activity in a world distinguished by the ubiquity of born-digital materials.
Jefferson Bailey is director of Web Archiving at Internet Archive. Jefferson joined Internet Archive in Summer 2014 and manages Internet Archive's web archiving services including Archive-It, used by over 500 institutions to preserve the web. He also oversees contract and domain-scale web archiving services for national libraries and archives around the world. Read more
Event details
Location: E53-212
We will provide lunch, please bring your own drink and your questions.
For those who would like to join via WebEx, details are below.
October Brown Bag with Jefferson Bailey
Monday, October 23, 2017
12:45 pm  |  Eastern Daylight Time (New York, GMT-04:00)  |  1 hr 30 mins
Join by phone
+1-617-324-0000 US Toll Number
Meeting number: 310 052 752
Meeting password: Archive
Join from a video conferencing system or application
Dial 310052752@mit.webex.com
Mobile Auto Dial:+1-617-324-0000,,,310052752#
Add this meeting to your calendar. (Cannot add from mobile devices.)