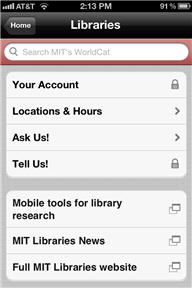 Have a smartphone?  Many popular library services are available on the run through MIT Mobile!
Download the Android or iPhone app, or visit the MIT Mobile web site from your smartphone.  Then tap the "Libraries" icon to:
Search for and request books
Manage Your Account
View library locations and hours
Ask questions & submit comments or ideas
Read news from the MIT Libraries on our blog
What else would you like to see on the mobile web site? Give us your ideas!
Special thanks to the MIT Mobile Computing group for their help in developing the MIT Libraries' mobile services.