Event date
April 13, 2016
9:30am - 12pm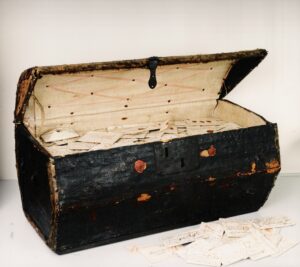 Join the international and interdisciplinary team of researchers on the Signed, Sealed & Undelivered Project. The project explores a 17th-century postal chest filled with an extraordinary archive: 2,600 letters which were never delivered, including some 600 that have never been opened. The team will describe their work preserving, imaging, transcribing, and identifying letterlocking formats in an effort to reveal the chest's secrets for the first time.
Presenters:
Rebekah Ahrendt, Assistant Professor of Music, Yale University
Nadine Akkerman, Lecturer in English, Leiden University
Jana Dambrogio, Thomas F. Peterson (1957) Conservator, MIT Libraries
David van der Linden, NWO Veni Fellow and Lecturer in History, University of Groningen
David Mills, physicist, Queen Mary, University of London
Daniel Starza Smith, British Academy Post-Doctoral Fellow, Lincoln College, University of Oxford
Event Details:
Samberg Conference Center
Dining Room 5, 6th floor
MIT, Chang Building (E52)
Light refreshments will be served beginning at 9:30 am.
Each attendee will receive locked letter models to take away.