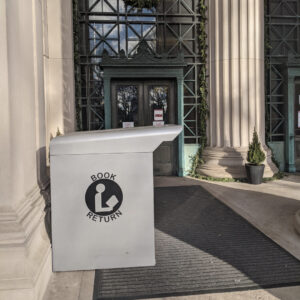 Congratulations to all 2021 graduates! If you are graduating and still have books checked out, the Libraries are here to help you get them returned so you can begin enjoying the summer.
Materials that remain checked out to your library account will not affect your graduation, but we appreciate materials being returned by Commencement.
All MIT Libraries locations remain closed and campus access remains restricted. Our recommendations are as follows:
If you are located in Cambridge or able to travel to campus:
Library materials may be returned at the book drop outside the entrance to Building 7 (77 Mass Ave., at the top of the stairs).
The book drop is emptied daily on weekdays.
Please do not leave equipment or oversized items that will not fit into the book drop.
You can also leave materials with a friend or colleague who is staying in the area so they may return materials in the Building 7 book drop.
If you are located outside the Cambridge area or unable to travel to campus:
We offer prepaid domestic UPS shipping labels so you can return MIT Libraries' items, as well as materials obtained through ILB or Borrow Direct​.
To request a label, please email circulation@mit.edu with your mailing address, email, and phone number. Labels must be used within 30 days.
Overdue fines for books and other library materials have been suspended and will not be charged to you, including for materials on loan from other libraries.
If you have any additional questions about your borrowed materials, fines, renewals, etc., please contact circulation@mit.edu.