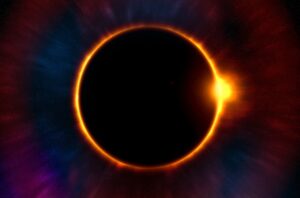 On Monday, August 21, everyone in North America will be able to view a partial or total eclipse of the sun. The Libraries are celebrating this must-see event by giving away 50 certified pairs of solar eclipse viewing glasses.
Every day, August 14-18, we'll give away 10 pairs of glasses. All you have to do to enter is post on Twitter or Instagram with #MITeclipse. You could share:
Your artwork or photo featuring the sun and/or the moon
A favorite quote from an astronomer, poet, or philosopher
An eclipse-themed haiku
Why you're excited for the eclipse or where you'll be watching it
Sky's the limit — be creative!
Winners must pick up the glasses at Barker Library (10-500) by 6pm on August 18. Happy viewing!

Related links
Top Ten Tips for Observing "101," MIT Alumni Association
Observing on Campus: Solar Eclipse 2017, EAPS