Event date
March 16, 2016
6:30 - 9pm
Please note: this event has been postponed.
Join the MIT Libraries and the Writing, Rhetoric, and Professional Communication (WRAP) program for a drop-in event, Write Together, in Hayden Library.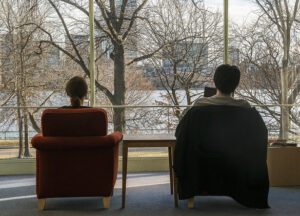 The WRAP program initiated Write Together in the spring of 2015 to provide a friendly environment for students who wanted to write in the company of others, whether working on an individual or team project. Students enjoy the quiet camaraderie as well as being in the same space as others immersed in the same task. Even though we often think of writing as a solitary act, writing is often done in community.
At Write Together, students can work on different sorts of writing: essays, reports, and even personal statements and letters. When you write alongside others, you may experience calmness, inspiration, and increased confidence. WRAP lecturers will be on hand to have the informal kinds of writing conversations that nudge and strengthen the writing and thinking process. MIT librarians will be present to help explore and focus students' research questions.
Event Details:
Join us for some or all of Write Together; drop in between 6:30 and 9pm
Check in at the Libraries' Digital Instruction Resource Center (14N-132); a selection of quiet rooms and consultation spaces will be available
Dessert and fruit will be available, and students are welcome to bring a beverage
Questions? Email Nina Davis-Millis, the Libraries' director of Community Support