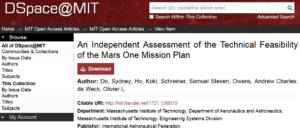 In October 2015, downloads of the 18,000 articles deposited in DSpace@MIT in accordance with the MIT Faculty Open Access Policy topped 180,000. This was a new record, leaping beyond the prior bar of 123,000 set in September.
Among the top 10 most downloaded articles for the month of October 2015 were:
Readers downloading these papers come from many walks of life. One recent reader wrote:
"I am a 'semi-retired' physicist who is attempting to keep up with the literature in the wild west ( Idaho Falls, Idaho ) It is very difficult to obtain original journal access and inter-library access is very slow ( usually )."
Other readers' comments are available through the oastories.mit.edu web service, where you can click on a map and see what readers from a particular country are saying.
To view download statistics, visit the Open Access Article Statistics site.
To have your article appear in these statistics, MIT authors may deposit a manuscript to the collection by logging in to DSpace@MIT.
This news is part of a series of regular reports on activity related to the Open Access Articles Collection in DSpace@MIT, which was launched in October 2009 to house articles deposited in association with the MIT Faculty Open Access Policy.
Ellen Finnie Duranceau, Program Manager, Scholarly Publishing, Copyright & Licensing, MIT Libraries