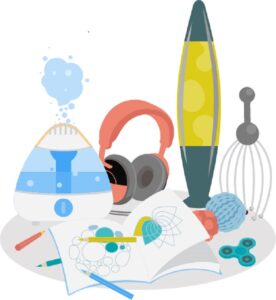 The MIT Libraries, MindHandHeart, and MIT Medical are pleased to announce the launch of the Calm-to-Go program, designed to help anyone experiencing stress to experiment with different strategies to calm their bodies and their minds.
Anxiety can be a feedback loop: stressed thoughts can activate the body's fight or flight system and in turn, people's anxious thoughts can increase. It can be helpful to utilize approaches focused on calming one's body as a way to help calm one's mind. Enter Calm-to-Go! Now a pilot project, this program enables members of the MIT community to check out equipment from Hayden Library, such as:
Noise cancelling headphones
Lava lamps
Weighted shoulder wraps
Aroma therapy diffusers
Fidget boxes
Neurofeedback or biofeedback equipment
We invite you to explore the Calm-to-Go sensory collection and get a feel for which equipment works for you. All Calm-to-Go materials are available for MIT community members to borrow for two weeks and use at home; you're also welcome to use items that don't emit aromas, sounds, or light while you're in the library.