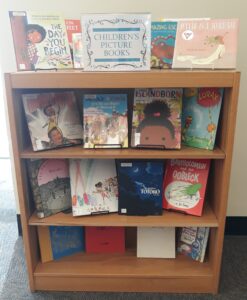 Looking for a new and engaging picture book for the kiddo in your life? Or perhaps a book with large font, gorgeous illustrations and an uplifting message for yourself? Look no further than the new children's picture book display at Hayden, located on the river wall by the Toni Morrison woodcut.
Featuring recent acquisitions:
The Day You Begin by Jacqueline Woodson, illustrated by Rafael Lopez
It's Angelina's first day of school and she is nervous about how she will get on with the other students. The opening sentence, "There will be times when you walk into a room and no one there is quite like you," transforms over the course of the book from a sentiment which makes her apprehensive into something to value and celebrate
Julián is a Mermaid by Jessica Love
Winner of the Stonewall Book Award
Julián sees a group of mermaids on the subway and feels an instant kinship. Ever resourceful, he uses objects around the house to complete his transformation, but will his abuela be upset with him? (Spoiler alert: She will NOT.)
From Publishers Weekly: "[Julian] is, in a word, fabulous. Love lets an anxious beat pass before Abuela takes Julián by the hand, leading him to what some readers may recognize as the Coney Island Mermaid Parade. "Like you, mijo," says Abuela. "Let's join them." Love's deep empathy for her characters and her keen-eyed observations of urban life come together in a story of love, understanding, and embracing the mermaid within us all."
Last Stop on Market Street by Matt de la Peña, illustrated by Christian Robinson
Winner of the 2016 Newbery Medal
A 2016 Caldecott Honor Book
A 2016 Coretta Scott King Illustrator Honor Book
A New York Times Book Review Notable Children's Book of 2015
A Wall Street Journal Best Children's Book of 2015
CJ wonders "how his nana always found beautiful where he never even thought to look." Over the course of a bus ride, she teaches him.
Inky's Amazing Escape by Sy Montgomery, illustrated by Amy Schimler-Safford
Follow Inky from birth, to accidental capture by a lobsterman, to a cushy life of semi-celebrity at a New Zealand aquarium, and finally his daring escape back to the ocean. Based on a true story!
Everybody Cooks Rice by Norah Dooley ; illustrated by Peter J. Thornton
It's dinnertime, and Carrie has to find her little brother Anthony. Her search doubles as a world tour of rice-based cuisine, introducing us to Carrie's neighbors each of whom is making a rice dish that Carrie stops to sample
Bonus! Recipe section at the end of the book for each featured dish.
All Are Welcome by Alexandra Penfold and Suzanne Kaufman
Portrait of a school with students and teachers from myriad backgrounds, learning with and from one another, with a strong, repeated emphasis on acceptance and inclusion. This one brought my mother to tears, folks. Beautifully written and illustrated.
If there is anything you would like added to the display, please let us know!