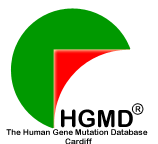 MIT Libraries has obtained a license for the Human Gene Mutations Database (HGMD). HGMD represents a comprehensive collection of data available on germ-line mutations in nuclear genes underlying or associated with human inherited disease.
Search for newly identified gene lesions to determine whether or not they are novel; search by gene to get an overview of the known mutational spectrum for that gene; and search for a type of mutation in a specific location.
HGMD is integrated with other bioscience resources such as OMIM, Entrez Gene and the Human Gene Nomenclature Committee. The free version of HGMD only contains 3 year old data while the licensed version contains current data and a better search interface, so take advantage of this great resource!
To access HGMD, search for "HGMD" in MIT Libraries' Vera. Click on "BIOBASE Knowledge Library-ExPlain and HGMD" and then "HGMD."
Contact Courtney Crummett with any questions.