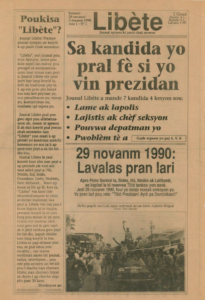 Founded by Father Jean-Yves Urfié in 1990, Haiti's weekly newspaper Libète aimed to fill a linguistic and cultural void as it was published in Kreyòl, the national language of Haiti. The not-for-profit, secular newspaper covered politics, health, agriculture, as well as human rights and social movements, and was the only newspaper with a substantial distribution in the provinces, outside the capital Port-au-Prince. Libète stopped operating in 1998 due to lack of funds.
Starting in 2022, the Bibliothèque Haïtienne des Spiritains (BHS), the Digital Library of the Caribbean (dLOC), and MIT Libraries collaborated to make Libète available on dloc.com and soon in the Libraries' catalog. MIT Libraries provided partial funding for the digitization of archival content held by BHS in partnership with dLOC, as a model for supporting open digital access to unique materials not available otherwise.
This will be an important resource for scholars interested in Haiti, especially those who design or study linguistic policy in support of universal access to quality education in Haiti. A key stakeholder in this collaboration has been MIT Linguistics professor Michel DeGraff, who is renowned for advocating for the use of Kreyòl as the primary language of instruction in Haiti, and for increasing access to quality education, including education in STEM and in foreign languages. "Libète contains unique language-related content that can be used for research on orthographic practices for Kreyòl, as well as research on Haitian history and society, education policy and cultural/linguistic revival materials — all of which are, indeed, invaluable for my work," says DeGraff.