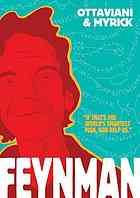 authors@mit presents:
Jim Ottaviani
and his new graphic novel:
FEYNMAN
Thurs., Oct. 6th,
5:30pm
MIT 4-370
182 Memorial Dr.
Please join us as we welcome Jim Ottaviani to the MIT campus to discuss his newest graphic novel.
Written by nonfiction comics mainstay Ottaviani and brilliantly illustrated by Leland Myrick, Feynman tells the story of the great man's life from his childhood in Long Island to his work on the Manhattan Project and the "Challenger" disaster.
Presented by authors@mit, a lecture series co-sponsored
by the MIT Libraries & the MIT Press Bookstore.
Open to the public and wheelchair accessible. Join us!
Event Info: (617) 253-5249, or web.mit.edu/bookstore/www