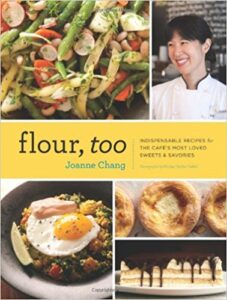 Each week in May, MIT libraries will highlight different materials to help you learn more about the Asian Pacific American experience.  This week, we are highlighting the subject of food in our collection.
Did you know chef Joanne Chang is the co-owner of Flour Bakery + Café, along with her husband Christopher Myers? They also opened Myers + Chang restaurant in 2007.  In addition to being a restauranteur, Chang is the author of Baking with Less Sugar: Recipes for Desserts Using Natural Sweeteners and Little-to-no White Sugar, Flour: Spectacular Recipes from Boston's Flour Bakery + Café, Flour, Too: Indispensable Recipes for the Café's Most Loved Sweets & Savories, and Myers + Chang at Home: Yum Me Yum You.
Known for the winner of season 10's Top Chef, Kristen Kish shares her recipes, techniques, and personal reflections on being adopted from South Korea as a baby in Kristen Kish Cooking, while Dale Talde shares his recipes in Asian-American: Proudly Inauthentic Recipes from the Philippines to Brooklyn. Eating Asian America: A Food Studies Readergathers scholars to analyze the issues of class, racial, ethnic, sexual, and gender inequalities that surround Asian American culinary practices. Chef, author, restaurateur, producer, and attorney Eddie Huang writes his memoir in Fresh Off the Boat.
Gain a deeper understanding of Chinese food in the U.S. with journalist Jennifer 8. Lee's The Fortune Cookie Chronicles: Adventures in the World of Chinese Food and Haiming Liu's From Canton Restaurant to Panda Express: A History of Chinese Food in the United States. Deepa Thomas shares her recipes in her cookbook and memoir Deepa's Secrets: Slow-carb, New Indian Cuisine.
These titles are a selection of what MIT Libraries has in its collection about the Asian Pacific American experience. Search more titles like these in the Barton library catalog. MIT is committed to providing diverse and up-to-date materials for all its patrons. If you would like materials that MIT does not own, please use our Borrow Direct or ILB services. Or, if you would like MIT to own certain resources, use Suggest a Purchase.