Wellness spaces
Lactation Room
As part of our ongoing support campus life, the Libraries are happy to make our Lactation Room (14E-207) available to campus visitors as well as MIT community members. This private, locked room in the Hayden Library accommodates one, and provides a chair, table, sink, refrigerator, counter, and a hospital-grade Medela Symphony breast pump. The Lactation Room is available during Hayden open hours; to request access, contact ce-lib@mit.edu.
More information on lactation resources on campus is available from The MIT Human Resources Center for WorkLife and WellBeing.
---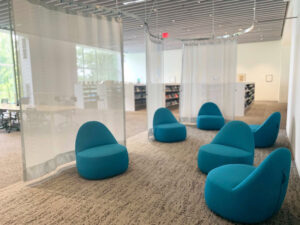 The Oasis
Located next to the 2nd-floor reading room, the Oasis is a zone for contemplation, meditation, or taking a break. The community is invited to unplug and separate from their studies. Visitors can enjoy comfortable seating and quiet in this minimal technology space.