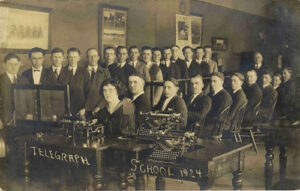 Long before telephone or text, instantaneous messages travelled by telegraph. Explore the historic significance of this technological triumph of the 19th century through an exhibit featuring books, telegrams, photographs, and ephemera from the Libraries' Peterson Telegraphy Collection.
---
The Whole Wired World

One of the great innovations of the 19th century, the telegraph, signaled the dawn of the Information Age.
---
The Marconi Legacy

Princess Marconi, the daughter of Guglielmo Marconi, Nobel Prize winner and inventor of wireless telegraphy, comes to MIT to speak with us about his legacy.