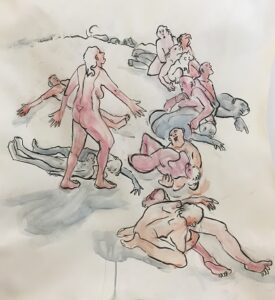 The Psychomachia is a late fourth century text by Prudentius, in which the Virtues and Vices battle over man's soul. These 'soul battles' are vividly depicted as nine combats in the medieval tradition. The Psychomachia was often illustrated with 'tinted drawings,' a specific form of manuscript illumination characterized by an inner luminosity, due to the translucency of the calfskin vellum surface and the spare handling of paint.
Painter Sharon Lacey uses this medieval image cycle as a point of departure for a series of ink and watercolor paintings on full-size calfskins. These 'tinted drawings,' like much of her other work, depict human beings engaged in the everyday struggles, torments, and embarrassments of embodied existence.
'Soul Battles,' on view in the Rotch Library from July 18 – August 19, 2017, will feature this series of works on vellum and Lacey's related oil paintings.
This project was funded by the MIT Council for the Arts.