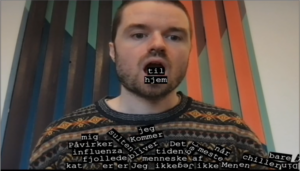 Exhibit opening event: Monday, September 26, at 5pm in the Lewis Music Library (14E-109). Join us as Andreas Refsgaard and Caleb Hall, Music Technology and Digital Media Librarian, demonstrate the installations, try them out for yourself, and enjoy light refreshments.
A 2022-23 visiting artist at the MIT Center for Art, Science & Technology (CAST), creative coder Andreas Refsgaard allows people to experiment, interact, and have fun with algorithms and machine learning. Two of his projects will be on view in Lewis Music Library. Doodle Tunes converts hand-drawn images of instruments into musical tracks – users draw an object, like a bird or a drum, and Doodle Tunes uses an algorithm to detect the objects that have been drawn and begins playing electronic music with those objects. Sounds from the Mouth is an interactive installation designed to encourage the exploration of sounds and music through physical movement and self-capturing images.
Andreas Refsgaard is an artist and creative coder based in Copenhagen. Working in the field between art and interaction design, he uses algorithms, coding, and machine learning to explore the creative potential of emerging digital technologies. In his artistic practice, Refsgaard applies a humorous and cheerful approach to the digital tools and their potential applications, purposes, and values.
Presented by the MIT Center for Art, Science & Technology (CAST) and MIT Libraries