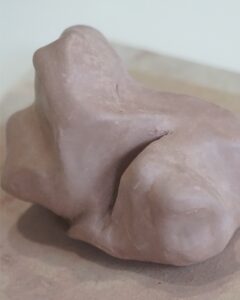 This exhibition presents a personal inquiry into the meditative space between collapsed formal choices and experiencing various materiality. Through multiple mediums, all the items in the display are projections in the material world of a continuous process of developing self and existence of being in time. This exhibition explores the making of marks and objects as a language system through two-dimensional and three-dimensional works.
The exhibition consists of drawings, small-scale clay, wood sculptures, casted aluminum book stands, and found objects and shapes produced in the past three years. Despite various mediums, they are all results of the same process of collapsing all the possibilities of potential shapes into one that agrees to a working standard. The working standard constantly progresses as the self evolves. The mind has no choice but to be continuously trained by natural patterns and human marks that give the shapes compositional and propositional logic and yet such fashion of the creating is impossible to be concretized through rules or language. It verges on the practice of art as the phenomenal aspects of experiencing consciousness and playing with the cognitive system.
Iris is based in Cambridge, MA and from Chongqing, China. She holds a bachelor's degree in Biological Anthropology from New York University and is pursuing a Master of Architecture at MIT's School of Architecture + Planning. Iris is interested in working between physical and experiential mediums which includes everything from drawing, sculpting, and audio and from documentary to public artwork.
Curator: Iris Yuting Zeng, Graduate Student at the Department of Architecture, MIT SA + P
References