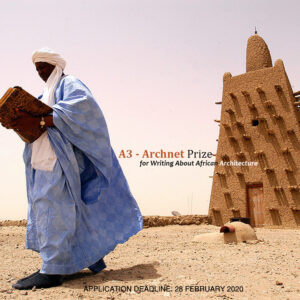 February 28th is the deadline for students in Nigerian to submit applications to join A3/Archives of African Architecture and the Aga Khan Documentation Center of the MIT Libraries in a project to document the architecture of Nigeria, particularly endangered architectural heritage, and contemporary projects.
Both undergraduate and graduate students are invited to compete for the prize. Recipients will join the A3 – Archnet team on a fully-funded weeklong trip to Boston, Massachusetts where they will receive training in the documentation of architectural heritage, and participate with the A3-Archnet team as they plan and begin development of the database.
To apply for the award, applicants must submit an essay on a structure in Nigeria or elsewhere in Africa. Participants submitting the best essays will be chosen for the prize.  Full details on the competition and the entry form are available at "A3- ARCHNET PRIZE FOR WRITING ABOUT AFRICAN ARCHITECTURE"
This project is made possible by a grant from MIT International Science and Technology Initiatives.