This morning Archnet rolled out a redesigned collections page that will allow users to see more collections on a single page, and to more easily browse collections by category or in their entirety. The initial page shows thumbnails for all collections in a randomized order. Each collection thumbnail contains an image representing it contents, a title bar whose color corresponds to the category of the collection, a brief description, and the category name. Users can switch between categories either by clicking a category name at the bottom on a thumbnail, or by using the menu at the top of the page.
The corresponding category pages will display all collections in that group, alphabetized by title. Clicking "show all" returns the user to a complete, randomized list of collections. The Resources page of Archnet contains a listing of all major collections, alphabetized by name.  A video tour of the new page is available in the Using Archnet collection.  
Clicking on a thumbnail opens a description of the collection and a representative image.  Clicking "View the collection"  will take users to thumbnails displaying all items contained in the collection.  Position the mouse over a thumbnail for basic information about the item, or click the thumbnail to open the full record.
It is also possible to see the contents of a collection organized by type by using the Collections filter in the left hand menu of Search.  It can be employed alone or with other filters and parameters. The images below show searches limited to the Music of Morocco collection.  This image shows a list view of the publications in the collection.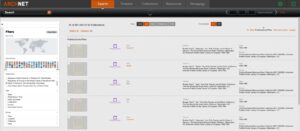 This image, demonstrates how to limit search results to video and audio that are in Tamazight (Berber) and which contain the word "dance" somewhere in the searchable fields of the record.