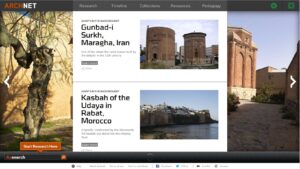 Join us on August 22, 2017 at 9:30 am EDT for the first in what we hope will be a continuing series of Archnet Online Office Hours.  This 1 hour pilot session with Archnet Co-Director Sharon C. Smith and Archnet Content Manger Michael A. Toler. The session will begin with a brief demonstration of the most recent Archnet enhancements, followed by an extended Question and Answer session.
The session will be in English, and headsets are required.  Registration for this pilot session is limited to 30 the first 30 registered participants.  Registration closes on August 14th at 11:59 pm EDT. To sign up for the session:
Go to
https://mit.webex.com/mit/onstage/g.php?MTID=effe8c470c33e0eb34f1bf005a171a4042. Click "Register".
On the registration form, enter your information and then click "Submit".
Interested people who are unable to register may sign up to be notified of other opportunities at https://docs.google.com/forms/d/e/1FAIpQLSfhdyr8dLqb1ZYmoAwKmJtSccIIF9i_mhV_tf_YfWJpsCBtBA/viewform