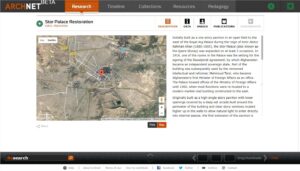 This morning's Archnet update, the first of the 2017 development cycle, includes a number of enhancements intended to improve the user experience.
Users will no longer have to drag, zoom, and click the map in order to apply country filters to a search. It is now possible to find and select countries simply by opening the Geo filter, typing a country name, and hitting the return key. Also in the realm of geolocation, users will find the site maps contain considerably more detail, often including place names written in local alphabets.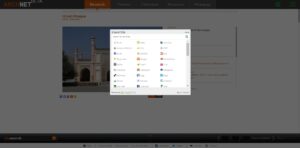 Frequent users of social media will be happy to know the "Share this" button has been restored. The button makes it easy for users to share a resource on popular platforms such as Facebook, Twitter, and Pinterest, as well as dozens of other platforms and services such as social bookmarking sites, blogs, and even instant messaging platforms.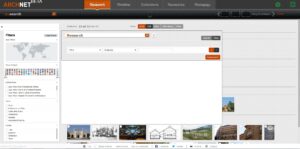 Finding new content on Archnet is now easier, thanks to the new "Date published" filter. In addition, publications will now be ordered from newest to oldest, so that users no longer need to scroll past older issues in order to see the most recently published items.
The most significant change of this update is in the search functions of Archnet. Users will be greeted with a cleaner, more intuitive interface, and minor bugs that thwarted some searches have also been eliminated. For a video guide to the new search interface, see the Using Archnet collection.
In addition, a new group search mode is now available to users who wish to conduct complex searches by grouping rules to define which logic applies to which groups. The search is a Beta customization of the JQuery Query Builder. Watch this site for opportunities to provide feedback and suggestions for future enhancements.
While the update is the first interface update this year, more than 5,800 new records have been published since the beginning of the year. See earlier stories on this site for some highlights.