About Lewis Music
Mailing address:
77 Massachusetts Ave., 14E-109
Cambridge, MA 02139
Street address:
160 Memorial Drive
Architect: originally part of Hayden Library. In 1996, renovated & renamed the Rosalind Denny Lewis Music Library (Architect: Melanie Brothers).
Named for: Rosalind Denny Lewis, wife of the late MIT professor, Warren K. "Doc" Lewis, and grandmother of the Bern Dibner Professor of the History of Science & Techology, Rosalind Williams. Read the dedication speech.
The Music Library originally functioned as a music lounge when it opened in the Hayden Building (Building 14) in 1951. Over the years, this space evolved into a music library. The library was totally renovated in October 1996 when it was renamed the Rosalind Denny Lewis Music Library. The library acquires materials that support the music curriculum and serve the reference, research, and recreational needs of the MIT community.
Study space and technology:
Comfortable seating and large study tables
Quiet study space in the Roy Lamson Conference Room (with an LCD screen and laptop connectors) and a small study room on the mezzanine
Scanner/photocopier on the first floor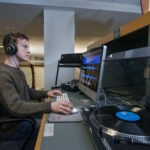 Audio and visual facilities:
The Bakalar Listening Center, on the library's mezzanine, features a listening carrel with compact disc players, turntables, cassette tape decks, VCRs, laserdisc, and DVD players.
Group viewing/listening room equipped with VCR, laserdisc, and DVD players.
Digital pianos on main floor and mezzanine.
Computers with music software.
Digitizing equipment for LPs and cassettes.
Collections:
Includes approximately 18,000 books, 40,000 music scores, 26,000 recordings (CDs, DVDs, laserdiscs, and videocassettes), and 100 journal subscriptions.
Subjects range from medieval chant to hip hop – and much in between!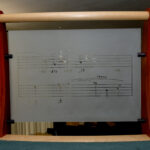 Events:
Fun fact:
An original Canon was written for the library by MIT music professor John Harbison in honor of the 1996 renovation work. It adorns the glass panels surrounding the second floor of the library. Listen to the John Harbison Canon. (Music performance by Emmanuel Music, Boston, Craig Smith, Music Director).