Our new beta search offers a quick way to get to books, media, articles, journals, and information on our website.  It searches our library catalog and several databases of article content from many scholarly journals, popular magazines, and other periodical publications (though it is not exhaustive). The results are grouped into scannable areas to make it easy to find what you're looking for.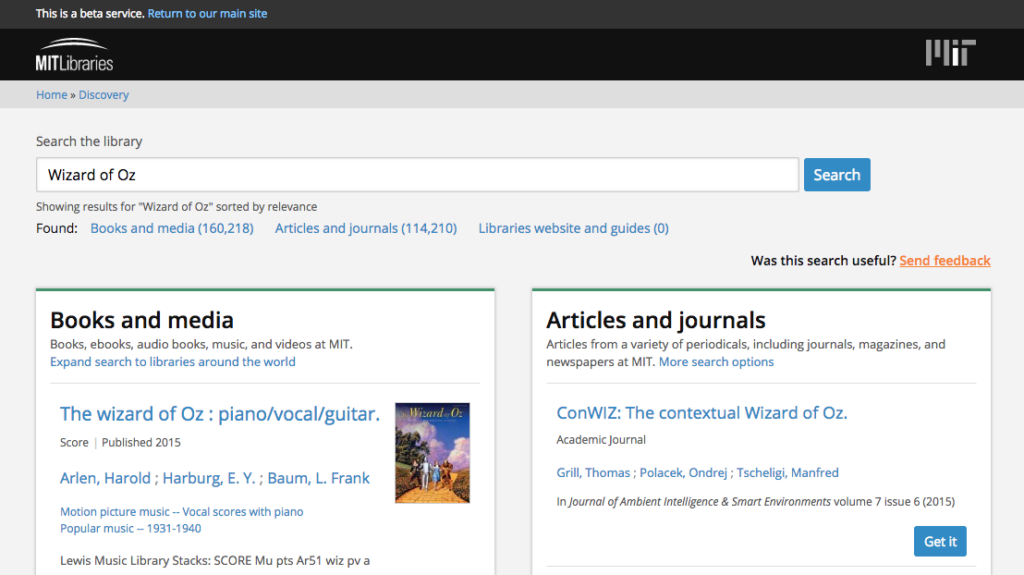 You can search by:
title, author or a combination of both, e.g. fire next time baldwin
topical keyword, e.g. gravitational waves
advanced search syntax for precise searching:

quotes around an exact text string, e.g. "in other words"
AU for author, e.g. AU "Rowling"
TI for title, e.g. TI "harry potter"
The results are sorted by relevance, often pulling relevance from the full text of the item, not just the catalog record information.
If you aren't finding what you're looking for, you can:
---
About the project
The beta search is an early stage project of the libraries internal development team aimed at improving the search results and experience for our community, especially for simple and known-item searches. Searching for information in the Libraries can often be confusing and fractured because information and resources are gathered from a wide variety of sources, which are siloed in separate tools. This project uses APIs to bring these sources together in one customized interface that will better meet user needs.
While the current phase is modest (bringing in the resources currently found in BartonPlus and Barton), we aim to add functionality, improve relevance ranking, and bring more of our sources in over time.
The beta will run through the Spring 2017 semester and if successful, will launch in Summer 2017.