Published: New York, 1969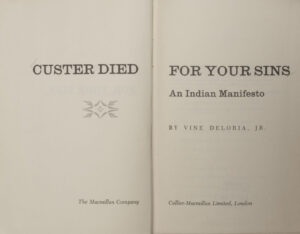 Before the American Indian Movement temporarily seized the Bureau of Indian Affairs in 1972, and before its occupation of Wounded Knee in 1973, Vine Deloria cast the Native American struggle into the public consciousness with what remains one of the most esteemed nonfiction books in the American Indian corpus.
Deftly blending humor, social critique, and call for reform, Deloria challenges Native American stereotypes as well as agencies' attempts to "help" the natives. What's more, he's not afraid to call authorities out on their own hypocrisies. "Some years back," Deloria writes,
Richard Nixon warned the American people that Russia was bad because she had not kept any treaty or agreement signed with her. You can trust the Communists, the saying went, to be Communists.
Indian people laugh themselves sick when they hear these statements. America has yet to keep one Indian treaty or agreement despite the fact that the United States government signed over four hundred such treaties and agreements with Indian tribes.
Deloria's book is a polemic, without question, but humor runs strong throughout the volume. In fact he devotes an entire chapter to "Indian Humor."
Columbus and Custer jokes are the best for penetration into the heart of the matter … Rumor has it that Columbus began his journey with four ships. But one went over the edge so he arrived with only three. Another version states that Columbus didn't know where he was going, didn't know where he had been, and did it all on someone else's money. And the white man has been following Columbus ever since.
Still, the wounds run deep, and it may well be impossible to forgive and forget America's transgressions against its native populations. A recent effort among certain Lakota to withdraw from the United States, citing numerous broken treaties, is but a single reminder of the injuries done to America's original inhabitants.