Live performance recorded: Cambridge, Mass., May 6, 1970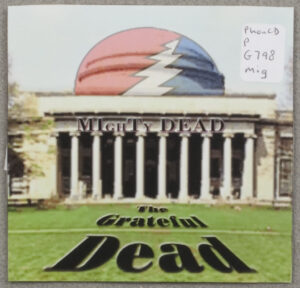 On the morning of May 4, 1970, four unarmed students were shot dead during student protests at Kent State University. That afternoon, over 1500 members of the MIT community, including over 200 faculty, flooded into the Kresge Auditorium and voted overwhelmingly to strike "in solidarity with the national university strike," according to the May 5 edition of The Tech. The meeting's consensus "emphasized the desirability of a broadly-based action including all faculty and administrators willing to work against the Vietnam War." Classes were suspended, faculty was urged to be flexible about delayed assignments, and student groups gathered to discuss their next steps.
On May 6, the first official day of cancelled classes, the Grateful Dead – paragons of the peace movement – arrived in Cambridge and played an impromptu set just steps away from Kresge in front of the Student Center. The weather was not entirely conducive to an outdoor show (the band eventually stopped playing because of the cold), but the mood of the crowd, needless to say, was electric, a mix of righteousness, anxiety, and exhilaration.
To many fans, the intimate May 6 show far surpassed the larger and louder "official" show that took place the next night at MIT in the Armory (now the DuPont Gymnasium). The critic in The Tech agreed, and added these impressionistic insights:
Wednesday. The sky an airbrushed blue-grey cloud cover, like a cheesy mural in a Howard Johnson's. The Dead behind a gaggle of microphones, behind them two eight-foot coffin woofers, clusters of speaker horns. Twenty or thirty people form a chain, whipping through the closely grouped crowd, looking like … like what? A ribosome, a chain of procreation dancing  across a living cell, or Death leading his dancing subjects? Grateful dead? Inane metaphors.
This recording of the outdoor concert on May 6 contains six numbers performed on the Student Center steps.
Both the May 6 and May 7 concerts are available to stream at archive.org.