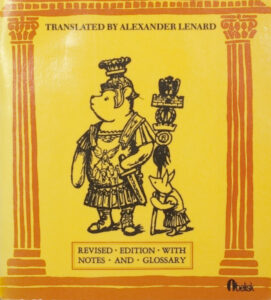 Published: New York, 1987
Alexander Lenard's Latin translation of Milne's Winnie-the-Pooh may be the most surprising New York Times best seller to date. First published in 1958 – in Sao Paolo, Brazil, and in an edition of only 100 copies – it went on to spend 20 weeks on the Times best seller list in 1960. Despite the volumes of great foreign-language literature published prior to that year, it was  Winnie ille Pu that became the first non-English-language book to grace that venerable list. Needless to say, it remains the only book in Latin ever to become a New York Times best seller.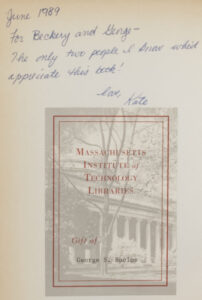 MIT's copy is the 1987 edition, complete with notes, glossary, and Ernest Shepard's illustrations from the English-language original. Perhaps even more precious than the illustrations, however, is the inscription on the inside front cover of our copy:
For Beckery and George, the only two people I know who'd appreciate this book!

Love, Kate
The volume was a gift to George Boolos, recipient of the Institute's very first Ph.D. in philosophy and an incomparable crossword puzzle solver. Boolos taught at MIT from 1969 until his death in 1996, during which time he famously explained Gödel's incompleteness theorem in a lecture employing only monosyllabic words. His personal copy of Winnie ille Pu endures as just one of his many contributions to the Institute.