Published: New York, 1938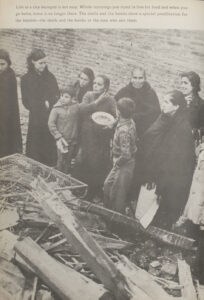 The Spanish Civil War of 1936-1939, like all such wars, brought loss, injury, brutal hardship, and often death to the country's civilian population.
External forces played an outsized role during the course of the war, with Nazi Germany and Fascist Italy aiding the rebel Nationalists, while the Republicans received support from the Soviet Union and from brigades made up of volunteers from the U.S. and Europe. The politics of the war were fiendishly complex – the Republican side, especially, experienced conflict within its own ranks, which included factions within factions. Eventually the Nationalists were victorious, and Spain would be headed by Francisco Franco until the 1970s.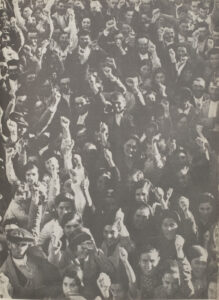 The war, its implications, and its aftermath reverberated throughout the artistic and intellectual communities of Europe and America. Out of the depths and the horrors of the conflict, there emerged several important works of literature, journalism and art; among these were Hemingway's For Whom the Bell Tolls (1940), Orwell's Homage to Catalonia (1938), and Picasso's Guernica (1937). The war continues to inspire artists in the current century: Osvaldo Golijov's 2003 opera Ainamadar concerns the death of poet and dramatist Federico Garcia Lorca, who was thrown into an unmarked mass grave after being hunted down and executed by Nationalist forces.
Robert Capa's Death in the Making, published while the war was still underway, would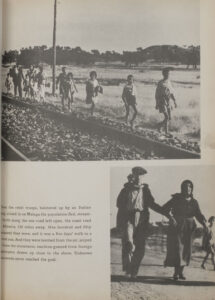 cement his reputation as one of the world's most important photographers. The images capture the elation of (short-lived) victories by the Republicans; the suffering of people who'd lost their homes, their livelihoods, and their loved ones; and the courage of both men and women who risked everything for their beliefs.
After leaving Spain, Capa went on to work for Life, Collier's, and other magazines. He published additional books of photographs, and eventually co-founded the Magnum Photo Agency with Henri Cartier-Bresson and others. He died in 1954, after stepping on a landmine while on assignment in Vietnam.
Gerda Taro, Capa's fellow photographer and partner, died in Spain in 1937 before this book could be published, when the car she was riding in was hit by a tank. Capa dedicated Death in the Making to her: "For Gerda Taro, who spent one year at the Spanish front – and who stayed on."