Published: Boston, 1937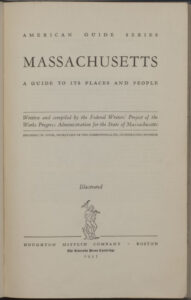 The Federal Writers' Project was a New Deal work relief program of the Works Progress Administration. From 1935 to 1939, the project employed around 5,000 people a year (a fraction of those enrolled in WPA programs overall), as writers, editors, and information-gatherers.
The purpose of the Writers' Project was to create a state-by-state "American Guide Series" of publications, in order to present a collective vision of America that drew on the richness and diversity of the people, history, and culture to be found in each state. (It was sort of like writing about 150 different books, to create a portrait of MIT and its Libraries.)
Logistically, editorial direction and instructions were issued to writers, via offices in each state, from a central office in Washington, D.C. This long-distance editorial setup gave rise to some, shall we say, creative differences. In an admirable effort to avoid chamber-of-commerce-style boosterism in the guidebooks, the central office effectively banned the use of the word "first" and any words ending in "-est."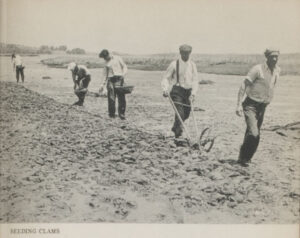 Descriptions of a given locale were to be grounded in the lives and work of real people – workers in cranberry bogs and beet fields, lumberjacks, fishermen, workers in steel mills and cotton mills.
Each book was published in a two-part format, reflecting the contrasting views of project head Henry Alsberg and tours editor Katherine Kellock, as to what a guidebook actually should be. The first part consisted of big-picture essays on local history, government, art, architecture, and so on, while the second part gave detailed and contextualized routes for automobile and walking tours. The tours proved to be very popular, and many readers felt that they could have done without the essays, which added 100-plus pages in bulk to their travel guides.
Massachusetts: A Guide to Its Places and People was one of the first books to be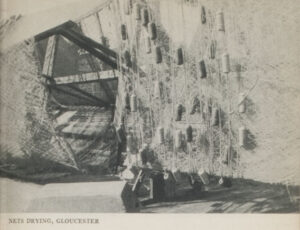 published in the American Guide Series – and one of the most notorious. It includes an essay on "Labor" that recounts the Boston Police Strike, the Sacco-Vanzetti trial, and the Commonwealth's failure to ratify the Child Labor Amendment in 1937, citing 1930 Census figures on working children in Massachusetts (nearly 10,000 of them between the ages of 10 and 15).
Governor Charles Hurley, on receipt of the first copy of the Massachusetts guide (which was partly state-sponsored), announced proudly that it belonged in every library and school in the Commonwealth. Exactly one day later he denounced the book, and others followed his lead. The Boston Reporter asked, "is it a Guide to Massachusetts or a Guide to the Sacco-Vanzetti case?"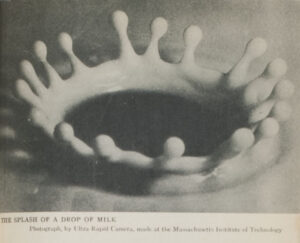 By 1938, during hearings of the House Un-American Activities Committee, the entire series of Federal Writers' Project guides would come under attack for perpetrating pro-labor propaganda.
Nevertheless, the Massachusetts guide sold extremely well, and its original on-the-road vision prevailed. The Federal Writers' Project "re-introduced" American readers to America, and made them want to go there.