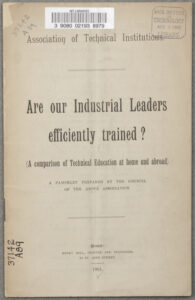 Published: Bristol, England, 1901
MIT was founded on the idea that an excellent education, based on a solid foundation in the sciences, was the surest road to technological and industrial innovation. A century ago, England's Association of Technical Institutions was thinking along the same lines, and recognizing that the overall health and success of the nation was tied to the robustness of its industry.
This pamphlet published by the Association opens with a stern warning: " … it is a matter of life and death for us to maintain our position as a great industrial nation … we cannot do this unless our manufacturers and merchants … are as well trained as those of the nations whose competition we have to meet."
The United Kingdom had seemed an all but unmatchable leader in the Industrial Revolution of the 19th century. But other nations — in particular Germany and the United States — provided increasingly stiff competition, and the technical education offered in both those countries was on the Council's mind when this pamphlet was prepared. The Massachusetts Institute of Technology is the only American school named in the publication, and the MIT model had clearly caught the Council's attention.
They write that "American employers appreciate so greatly the value of Technical training that, although three hundred students … leave the Massachusetts Institute of Technology, Boston, each year … the number of applications for such students is so great that they are all provided with engagements before they complete their courses." Then as now, the value of an MIT education was appreciated internationally.