Published: 1886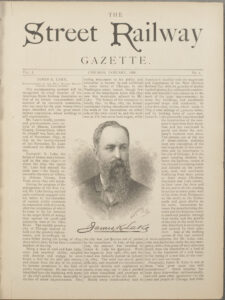 Featured here is our bound first volume of The Street Railway Gazette, a readable and entertaining publication that was produced for a professional audience. MIT owns several years of this title, which is one of a number of similar journals held by the Libraries, such as The Street Railway Bulletin, The Street Railway Journal, and The Street Railway Review.
The street railway was the heart of public transportation during the last quarter of the 19th century, and its technology was continually updated and improved. Various methods for powering street railways were in use or in development in 1886. For example, one article in this publication looks at the search for a source of power "other than horse flesh" to propel cars through the streets – a fundamentally important issue. Of course electricity triumphed, and during the late 19th century horse-drawn street railways were being replaced by electric streetcars.  In recognition of the shift, this journal would change its title in 1895 to The Electric Railway Gazette.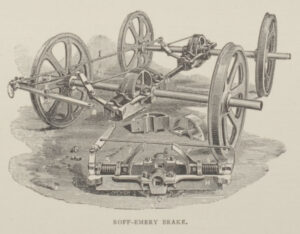 With its articles on the most suitable horseshoes and with its ads for brakes, lamps, and horse grooming supplies, this publication provides a fascinating window into another time as it marks the development of mass transit technologies. Today, New York without its subway system is unthinkable. But an article in this volume noted that in New York, "many think the Elevated Railways … have about reached their capacity … thinking minds … turned at once to the underground railways, but were met with numerous objections, chief among which was the well-nigh impossible task of affording requisite ventilation. Every passing engine, vomiting forth sulphurous fumes, would foul the air and unfit it for use in human lungs."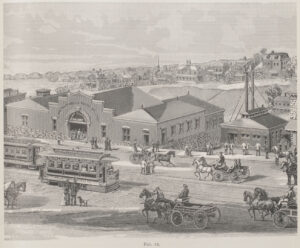 On a more local note: in the December 1886 issue we learn that conductors and drivers with two years' experience on the Boston Consolidated Street Railway were earning $2.25 per day. Mr. Powers, the Railway's president, declared with pride (or exasperation) that "this is the highest rate of wages on any street railway." Meanwhile, across the river in Cambridge, passenger fare on on the Cambridge Horse Railroad had been raised from five to six cents.