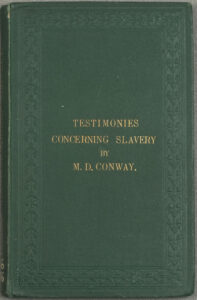 Published: London, 1864
The Civil War had a major impact on MIT's early history. On April 10, 1861, Governor John Andrew signed the act of the Massachusetts Legislature establishing the Institute. Exactly two days later Fort Sumter was attacked, and the conflagration began. Of course MIT's opening would be delayed.
But the nightmare at the root of the war – slavery – was already an issue of importance to MIT's founder, William Barton Rogers. His personal library, now part of the MIT Libraries' special collections, includes tracts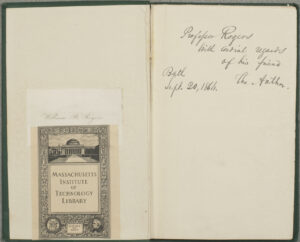 condemning the practice. This particular antislavery volume is inscribed to Rogers by its author, Moncure D. Conway, an important abolitionist: "Professor Rogers, with cordial regards of his friend The Author."
Conway, a native Virginian, made it a point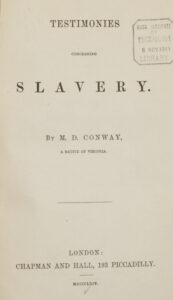 to stress his Southern roots in his abolitionist writings. His views left him an outcast from his community and his own family, and he moved often, to such places as Ohio, Massachusetts, and England, where he spent many years.
His family home in Virginia is now a National Underground Railway Network to Freedom site, in recognition of Conway's effort to assist many of his father's escaped slaves in their journey to Ohio and freedom.