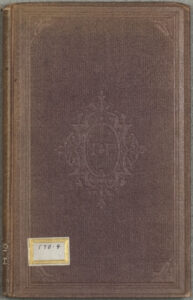 Published: Boston, 1862
Oliver Wendell Holmes, Sr. did it all: doctor, professor, poet, novelist, BFF with Emerson and Longfellow, and 19th century superstar.  He's remembered for coining the term "anaesthesia," as well as for noting – before the articulation of germ theory – that doctors themselves could serve as unwitting disease carriers. As an author Holmes was popular and esteemed; his poem "Old Ironsides" is widely credited with saving the USS Constitution from the scrapheap.
This is an extended version of a lecture in which Holmes instructs a new Harvard class of doctors-in-training to discard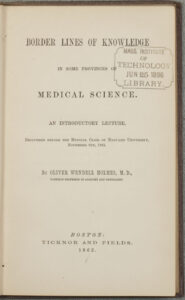 the dangerous, discredited assumptions of the past. Holmes presents an overview of medical practice in accessible but colorful language that the general reader can enjoy even today. The members of the incoming medical class who'd been privileged to hear the lecture "unanimously voted" to urge Holmes to publish it – and here it is.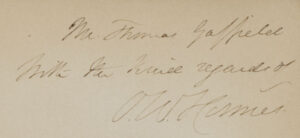 MIT's copy is inscribed to "Mr. Thomas Gaffield, with the kind regards of O.W. Holmes." Gaffield, a Bostonian, performed notable research on glass, and owned an important commercial glassworks. A member of the American Association for the Advancement of Science and the American Academy of Arts and Sciences, he was also an MIT trustee. This volume came to MIT along with Gaffield's large and important library of books on glass and glassmaking.