Published: New York, 2007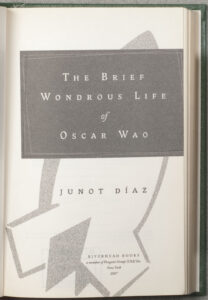 Junot Díaz is the Rudge and Nancy Allen Professor of Writing in MIT's Program in Writing and Humanistic Studies. His first book, a collection of short stories called Drown, met with critical acclaim when it was published in 1996, becoming a national bestseller and winning a PEN/Malamud Award. A decade later, his debut novel, The Brief Wondrous Life of Oscar Wao, generated even more buzz. In addition to ending 2007 on several "best-of" lists, the book also won several major awards including the National Book Critics Circle Award and the 2008 Pulitzer Prize.
The novel moves back and forth between the United States and the Dominican Republic as it weaves together several narrative strands from different characters to tell the story of the de Léon family over the course of several decades. In the prologue, the narrator, Yunior, describes a curse known colloquially as the fukú, which Dominicans trace back to the arrival of Columbus, and blame for misfortunes both personal and historical. The title character, Oscar de Léon, is tormented by fukús big and small. Overweight, socially awkward, a fan of sci-fi and fantasy, Oscar fails to fit in anywhere, and his story is both funny and heartbreaking.
References to fantasy, science fiction, and American popular culture sit side by side with more elevated literary references; the book opens with a quotation from the comic book Fantastic Four that's followed by a Derek Walcott poem. Díaz's narrator frequently mixes Spanish with English, and uses footnotes not so much to explain certain references as to expand on them, much as a musician's solo will augment and build on the basic tune of a song.
Díaz doesn't spell everything out, and the reader's experience is not unlike that of an immigrant who must learn a new language and culture by picking things up along the way, or sometimes just rolling with it.
Yet the effect is never alienating, and you could say that Oscar Wao is more than a novel: it's a deeply rewarding and immersive experience.