Published: Karachi, Pakistan, 2001
Known locally as the "City of Lights," Karachi is the largest city in Pakistan and one of the largest metropolitan areas in the world.
In 2001, to promote awareness of the rich cultural heritage of the city, KaravanKarachi (now KaravanPakistan) was formed as a community and youth outreach program. In support of the program's festivals and heritage activities held in September of that year, communication design students at the Indus Valley School of Art and Architecture and the School of Visual Studies, University of Karachi, created Karachi, Sentenced: The Architecture of the City in Typography. The volume provides a visual representation of a few of the 600-plus historical buildings of Karachi that have been declared "protected heritage" sites.
What they created, though, is not your average book about architectural heritage sites.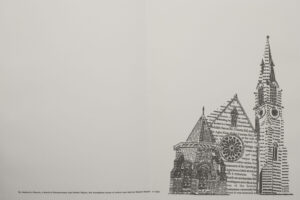 Karachi, Sentenced is a thin volume folded accordion-style. If you begin reading from the front cover, each two-page spread is a stand-alone depiction of a particular site in Karachi, such as St. Andrew's Church or the Ghulam Hoosain Khaliqdina Hall and Library. However, when you flip the book over on its back and open it to its full length, it unfolds to reveal a panorama of Karachi buildings that's nearly 7.5 feet long.
This unusual physical format is only the first of two unique features of this book. For rather than depicting buildings in photos or drawings, Karachi, Sentenced renders the city buildings entirely in typeface. Words and phrases that describe each site, in different sizes and fonts, are arranged to form the shape of the buildings pictured.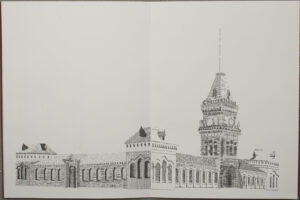 Readers learn, for example – from the text that forms the pediment of the Sindh High Court building – that the "grand portico of the judicial court was of pink jodhpur." The text forming the roofline of the Sind Club explains that the facility was "designed for the social enjoyment of the representatives of the Raj."
The intricate typography invites the reader to closely examine each building, and encourages careful study and appreciation of this small sampling of Karachi's rich heritage.