Published: New York, 1998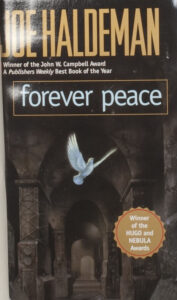 One of the most notable figures in contemporary science fiction can be found right on the MIT campus.
Joe Haldeman, who teaches several different courses in MIT's Program in Writing and Humanistic Studies, has received multiple honors for his published work. In 2010 he was named the Damon Knight Memorial Grand Master, an award bestowed by the Science Fiction and Fantasy Writers of America to a living author in recognition of lifetime achievement in the literary genres of science fiction and fantasy. In receiving this award, Haldeman joined the ranks of such luminaries as Robert A. Heinlein, Arthur C. Clarke, Isaac Asimov, Ray Bradbury, and Ursula K. Le Guin.
That's not the only accolade bestowed on Haldeman, however. Today's selection – Forever Peace – received the prestigious Hugo, Nebula, and John W. Campbell awards in 1998. Though not a sequel, Forever Peace bears a thematic relation to Haldeman's 1974 The Forever War, which was also honored with Hugo and Nebula awards.
Forever Peace is set in 2043, during a war in which "soldierboys" (war machines connected to the brains of human soldiers) fight for the American-led Alliance side of the conflict. The story is told from the point of view of Julian Class, one of the linked soldiers.
The novel was greeted with ecstatic reviews. Publisher's Weekly praised Haldeman's prose for its "uncommon intelligence and acuity about the terror of war and the horror of the human heritage in the middle of the next century." Library Journal said that the book "presents a thoughtful and hopeful solution to ending war in the 21st century."
Haldeman himself is a Vietnam veteran and recipient of the Purple Heart. It seems safe to assume that his own experience has informed his powerful writing on war.
In 2007, Haldeman published The Accidental Time Machine, which touches on another type of first-hand experience: the novel is largely set at MIT.