Installed (and premiered): Cambridge, Mass., 1996
Situated at the east end of the Hayden Library building, MIT's Lewis Music Library is one of the most popular destinations on campus. With its outstanding collection of scores, recordings, and books, the library is among the MIT Libraries' busiest locations.
The Lewis Music Library serves a distinguished music faculty and a student body known for its musical prowess. The library also proudly offers some of the comfiest seating at the Institute.
Roughly two hundred years ago, Goethe famously said, "I call architecture frozen music."
The Lewis Music Library takes Goethe's metaphor and turns it into literal truth: music has been incorporated directly into the library's physical structure.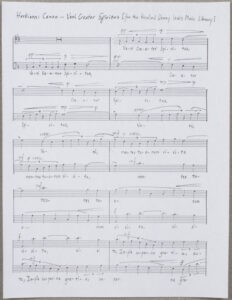 The library's mezzanine is enclosed by a sinuous balustrade of translucent glass panels, each measuring roughly 4 feet wide and 3 feet high. Etched into the panels, in sequence, is the complete score of a canon by Professor of Music John Harbison. Entitled Veni Creator Spiritus, the piece was composed to celebrate the library's complete renovation in the 1990s.
At the library's dedication on December 4, 1996, Harbison's composition was performed on two trombones played by Larry Isaacson, director of MIT's Brass Ensemble, and Kevin Karnes, class of 1995. It's also been performed by Boston's famed Emmanuel Music, conducted by Craig Smith, in a recording captured on May 23, 1999.
Now, to answer two questions that have doubtless crossed your mind: Yes, these 13 glass panels comprise the largest item in the entire "150 Years in the Stacks" project. And no, they do not circulate.