Published: Port Townsend, Wash., 1993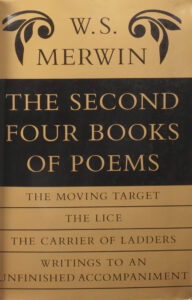 When The Second Four Books of Poems was published in 1993, W.S. Merwin visited MIT to read from his works at the Bartos Theater. The four books in the volume had originally been published during a ten-year span between 1963 and 1973: The Moving Target, The Lice, the Pulitzer Prize-winning The Carrier of Ladders, and Writings to an Unfinished Accompaniment.
In these poems the reader can trace a transformation in Merwin's writing. In his preface to this 1993 volume, he explains why he "relinquished punctuation," and his reason has been frequently quoted since: "I had come to feel that it stapled the poems to the page."
But what had changed in his work was more than just the absence of commas and periods. With The Lice, much of his imagery became pointedly unreal ("The wheels go on praying"), often difficult to make sense of, but at the same time highly evocative and compelling, despairing but not without humor. Some lines from "A Scale in May":
Now all my teachers are dead except silence
I am trying to read what the five poplars are writing
On the void
and further down in the same poem:
To succeed consider what is as though it were past
Deem yourself inevitable and take credit for it
If you find you no longer believe enlarge the temple
During his 1993 visit to MIT, Merwin spoke about the historical context in which these poems had been written, particularly the Vietnam War and the beginnings of the environmental movement. In this regard, his words that evening were much the same as those that appear in the preface to The Second Four Books of Poems:
Poets have been known to be smug about their fine uselessness, but the Vietnam War led many poets of my generation to try to use poetry to make something stop happening. We will never know whether all that we wrote shortened that nightmare by one hour, saved a single life or the leaves on one tree, but it seemed unthinkable to many of us not to make the attempt and not use whatever talent we had in order to do it.
W.S. Merwin was appointed Poet Laureate of the United States in 2010.