Published: New York, 1990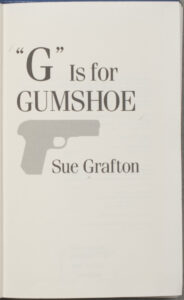 You don't need to be Sherlock Holmes to understand why students might need a break from the rigors of an MIT education. For many decades, the Libraries' collection of detective fiction has served to provide that escape. Before the Internet, before there was a television in every dorm room, students here at "Tech" would curl up with some lighthearted prose for the occasional respite.
The seventh installment in Sue Grafton's "alphabet series" is a contribution to this long Institute tradition. It's no secret that today's student is more likely to turn to the Web rather than a novel for a well-earned study break. But the countless date-due stamps at the back of MIT's copy of "G" Is for Gumshoe speak for themselves.
Nor can anyone deny the sheer success and popularity of Grafton's "Kinsey Millhone" mysteries. In fact, it was after the publication of "G" Is for Gumshoe that the author was finally able to quit her day job as a screenwriter. Considering that Grafton has refused to sell the film or television rights to her novels, we can only imagine how sweet that day must have been for her.