Published: Urbana, Ill., 1978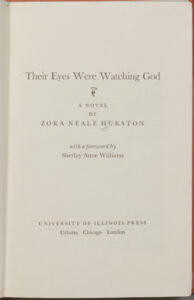 It's difficult to hear the story of Zora Neale Hurston's life without succumbing to feelings of sorrow and frustration. Had she written nothing except the magnificent 1937 novel Their Eyes Were Watching God, Hurston would merit a place on any list of important American writers. But she did publish a good deal more, and much of it was brilliant.
Nonetheless, the year 1959 found Hurston, a woman of color by then approaching old age, writing in longhand to Harper & Brothers, asking them please to consider a book she was completing. In the 1972 critical anthology The Harlem Renaissance Remembered, Robert Hemenway writes that
The letter to Harper's … indicates the personal tragedy of Zora Neale Hurston: Barnard graduate, author of four novels, two books of folklore, one volume of autobiography, the most important collector of Afro-American folklore in America, reduced by poverty and circumstance to seek a publisher by unsolicited mail.
One year later, Hurston would die penniless. She didn't die alone; her passing was marked by her few remaining friends and acquaintances. But there was no money for a tombstone. Her grave, in a segregated cemetery, disappeared beneath a sea of waist-high wild grass and weeds.
In the early 1970s, the novelist Alice Walker famously sought out Hurston's gravesite. Having located it, she arranged for the placement of a stone reading "A Genius of the South … Novelist, Folklorist, Anthropologist."
Walker wrote about that experience in a 1975 article in Ms. magazine, an event that helped spark a major revival of interest in Hurston and her works. Today Their Eyes Were Watching God is routinely taught in American literature classes and in courses on the 20th century novel. Out of print for nearly thirty years after its initial publication in 1937, the book is now widely available in various editions. In 1995 it was issued in a prestigious "Library of America" volume of Hurston's novels and short stories. Success came late to Zora Neale Hurston.
The book is worth reading for countless reasons. One of them is discovering the meaning of its somewhat mysterious title, which is drawn from one of many breathtakingly beautiful lines in the book. The novel is also notable for its fascinating portrait of Eatonville, the all-black Florida town in which Hurston herself grew up.
Their Eyes Were Watching God is a book of unusual beauty: deeply sad, wonderfully humorous, and incredibly rich in its portrayal of the experiences of a powerful African American woman during the first third of the 20th century.