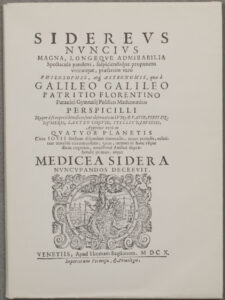 Published: Pisa, 1964
MIT's rare book collections contain many treasures. One of our prized possessions is the 1638 Discorsi e Dimostrazioni Matematiche, Intorno à Due Nuove Scienze, or Discourses on the Two New Sciences. This is the last book published by Galileo during his lifetime, and a landmark of scientific literature.
Another of Galileo's groundbreaking works is his Sidereus Nuncius, often referred to in English as The Starry Messenger. The Libraries' copy of this title isn't a genuine first edition of Galileo's 1610 publication; rather, it's a beautifully produced, numbered, limited-edition facsimile, printed in Pisa in 1964.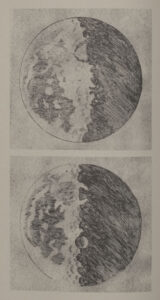 In the Sidereus Nuncius, Galileo became the first to record the use of a telescope to observe heavenly bodies, including the stars of the Milky Way, several of Jupiter's moons, and the surface of the Earth's moon. Because of its extremely high quality and its relative scarcity, our facsimile edition of the Sidereus is also housed with our rare books.
Normally the Libraries don't allow books from our rare and special collections to leave the library under any circumstances, but we made an exception for this one.
Did we ever.
In May of 2009, astronaut and alumnus Mike Massimino (MIT Ph.D. 1992) rode the space shuttle Atlantis on a trip to service the Hubble Space Telescope – NASA's final trip to the Hubble and a hugely successful mission. With him was our copy of the Sidereus Nuncius.
When "Astronaut Mike" came to campus later that year to report on the journey and return the volume, a standing-room-only crowd was on hand to greet him and to hear his thrilling, informative,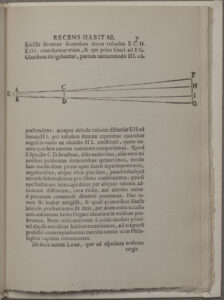 and entertaining recap of the mission. At the end of the event, the relief in the room was palpable as Ann Wolpert, Director of Libraries, graciously waived the book's overdue fine.
By the time they completed their mission and returned to Earth after nearly 13 days in space, the Atlantis crew (and our little volume) had traveled some 5.3 million miles in orbit around this planet.
We realize it's unforgivable, but in the Libraries we're fond of saying that no item in our collection has circulated more than this one has.