Published: Washington, 1961
The list of important speeches delivered in America in the 20th century is lengthy. Much shorter by far is the list of noteworthy quotes from such speeches – excerpts that have cut through the clutter of a noisy epoch to become almost universally familiar:
The only thing we have to fear is fear itself (Franklin Delano Roosevelt)

I have a dream that my four little children will one day live in a nation where they will not be judged by the color of their skin but by the content of their character (Martin Luther King, Jr.)

Ask not what your country can do for you. Ask what you can do for your country (John F. Kennedy)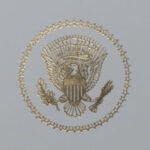 This last is from JFK's widely-admired inaugural address. The MIT Libraries own a copy of the speech in a pretty white binding with slipcase, both embossed with the Great Seal of the United States in gold.
Neither the volume nor its slipcase carry any publisher information, indicating that this was privately printed for the president to use as a gift for friends and associates. Sure enough, MIT's copy includes a handwritten message in blue ink: "To James Killian Jr., with appreciation and best wishes, John Kennedy, Christmas 1961."
James Killian, Jr., was president of MIT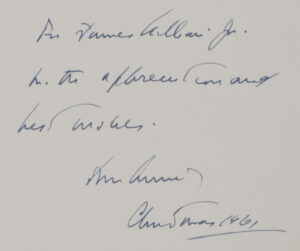 from 1948 to 1959, and the first Institute president with an MIT degree. During his tenure as MIT's president he also served the United States in various capacities, including advising the government on issues such as communications policy and management. He chaired the Army Scientific Advisory Panel in the 1950s, and reported to President Eisenhower as a special assistant for science and technology from 1957 to 1959. At John F. Kennedy's request, Killian served on the President's Foreign Intelligence Advisory Board from 1961 to 1963.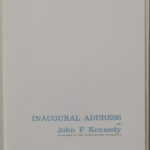 Find it in the library