Published: New York, 1952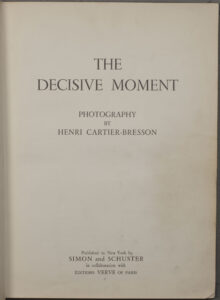 Hailed by many as the father of modern photojournalism, Henri Cartier-Bresson here presents the culmination of twenty-five years of work.  By this point in his life, Cartier-Bresson had shared New York gallery space with Walker Evans; had escaped from a Nazi POW camp on his third attempt, after nearly three years of forced labor; and had co-founded Magnum Photos, an international photo cooperative that remains in operation today (one of his co-founders was Robert Capa, who was featured in our posting for 1938).
Previously a painter, Cartier-Bresson describes the interlude when he came to photography, which happened while convalescing in Marseille after a nearly fatal brush with blackwater fever:
I prowled the streets all day, feeling very strung-up and ready to pounce, determined to "trap" life – to preserve life in the act of living.  Above all, I craved to seize the whole essence, in the confines of one single photograph, of some situation that was in the process of unrolling itself before my eyes.
Words will do little justice to his photographs, so we'll simply allow these few images to speak for themselves.